Talking RDFNL 2021 - Woodend Hesket Senior Football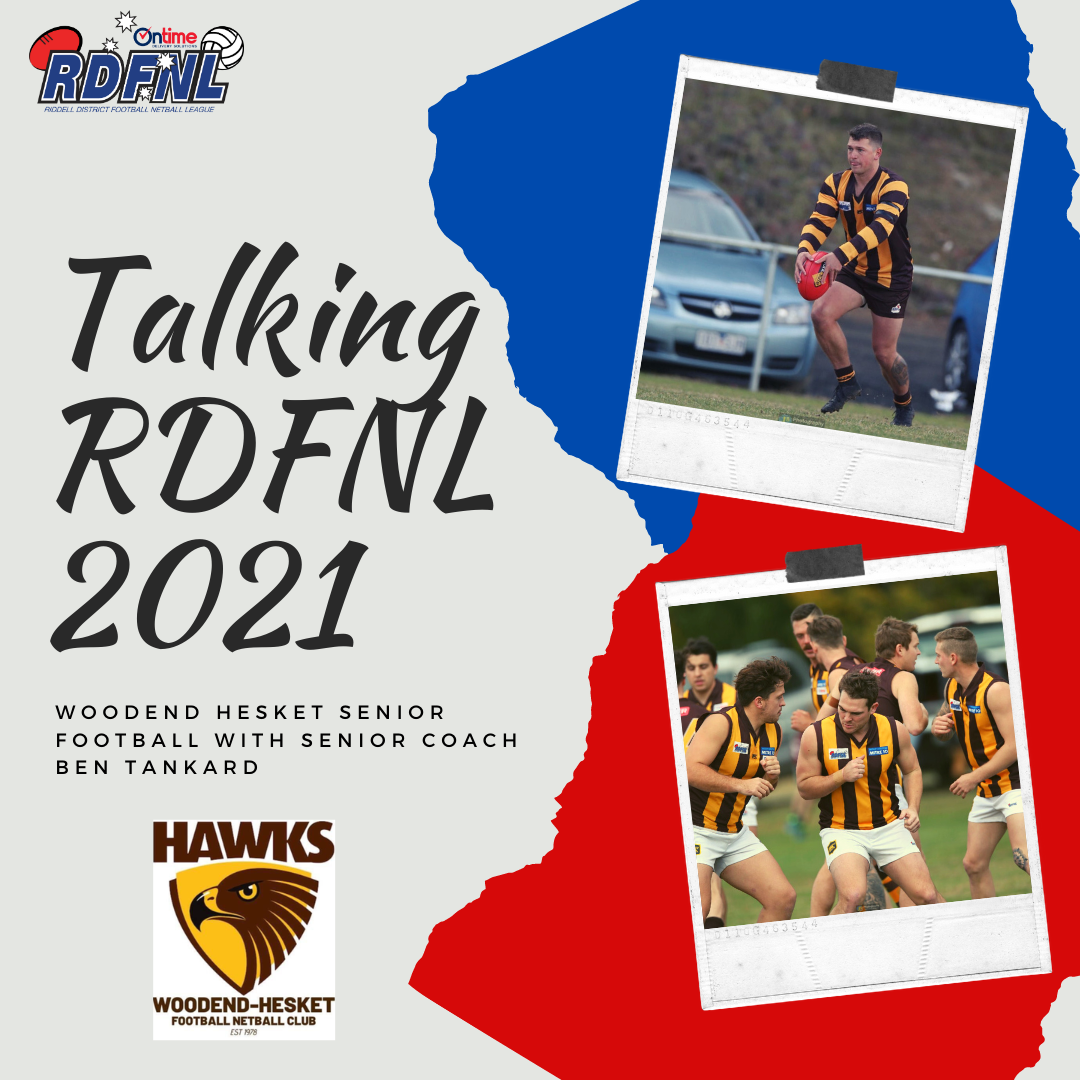 Woodend Hesket continues to build on its already bolstered list ahead of the 2021 Ontime Delivery Solutions RDFNL Season.
At the start of 2020 Woodend Hesket were looking ominous under new coach Ben Tankard, but it wasn't to be. 
Despite the year being put on hold due to the Covid19 Pandemic there are still exciting things to come from the Hawks in 2021.
Covid19 has had a huge impact on all the RDFNL clubs and Tankard is taking it in his stride.
Here is what Tankard had to say. 
Have Woodend Hesket had any key signings for the upcoming season?
Since the last match played in 2019 the club has added 11 new signings including; Wayne Patak (Spotswood), Aaron French (East Malvern), James Vistarini, Rory Alexander, Nick Franzi (Taylors Lakes), Blake Laverie, Jordan Filakis, Ravin Willara (Avondale Heights), Brandon Wilson (Riddell), Sean Crawford (Rupertswood), Charlie Mathieson (St Joseph's) 
Who has left the club that will be difficult to replace?
 Ex captain Daniel Toman, key defenders Michael Peart and Bryce Crosswell have also left the club. Toman has been one of the premier midfielders in the competition and will be very difficult to replace.
 Have you coached in the league before and if so what do you like about the RDFNL?
 I have coached Macedon Cats for the previous two seasons and joined Woodend-Hesket for the 2020 season. I think the league is a fantastic competition with healthy rivalries within the communities, beautiful grounds and facilities, and a good standard of football. It's a league that clubs can improve quickly if they work hard and can put things right, over the last 11 seasons 7 different clubs have won a Senior Premiership. That proves that it's possible for all clubs to aspire for success.
 How has Covid19 changed your 2021 season plans?
 It has made it a little difficult to plan our preseason the way we would have liked as we await government restrictions to lift, but we are flexible to the situation and I'm sure whatever is thrown our way the players and club will be well prepared for Round.1 2021.
 During 2020 did Woodend Hesket implement any activities for players that were covid19 safe?
 Once it was no longer possible to train as a club, we set up 8 virtual training groups and set weekly targets and exercises to complete. We made it competitive between the teams which kept all the players engaged and was a lot of fun during lockdown.
How do you prepare for season 2021 following the year off?
It will be a challenge to prepare the playing group after not playing a competitive game since August 2019. We will look to include a lot of competitive training, match simulation and extra practice games so that we do not risk starting the season slowly by not being physically ready.
Who are some players to watch from Woodend Hesket in 2021?
Our midfield will have a new look with Wayne Patak, Aaron French, James Vistarini and Blake Laverie, all class players that will hold their own in this competition. We are also excited about the development of some our younger players especially Liam Bianco, Tyson Chapman, Ethan Grech, Harley Giddings and Finn Urie.
What are you most looking forward to in 2021?
Spending a Saturday afternoon involved in community sport again, it was greatly missed this year and can't wait for 2021 season to begin. Also very much looking forward to a much improved and competitive Woodend-Hesket football and netball teams. 
Do you have a set date for preseason following the easing of restrictions? 
We have not yet set an official date with a portion of our playing group still under Metro Melbourne restrictions. We are hopeful we can resume full training by late November or Early December.