Chloe Eyre - Invited to state academy trials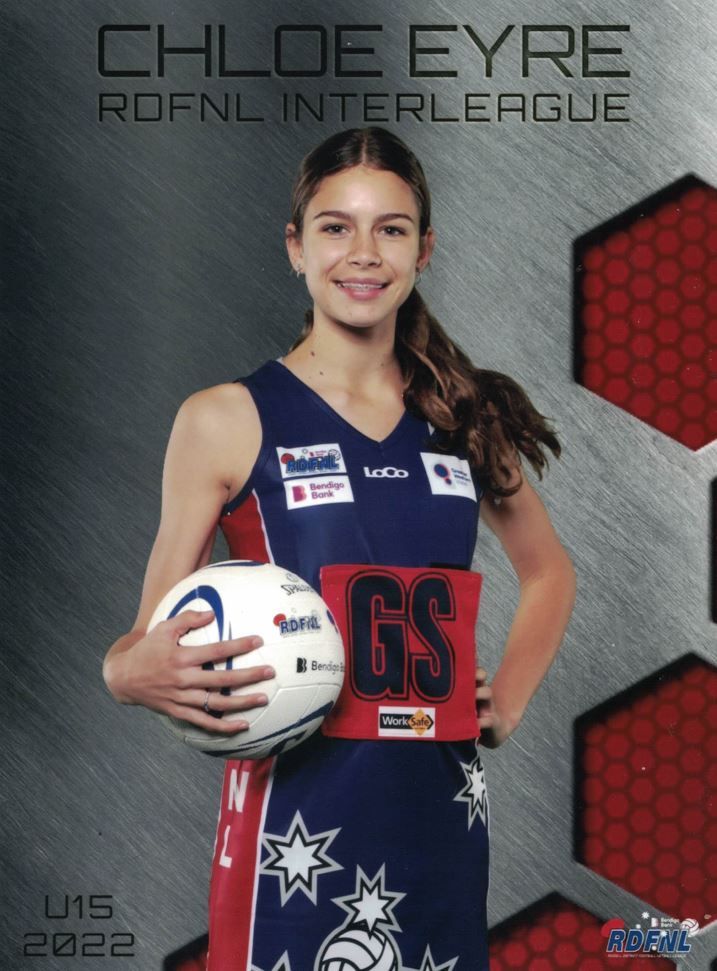 Following a successful tournament with the RDFNL 15 and Under Interleague team Chloe Eyre from Lancefield has been talent identified and invited to the trials for the state academy. 
The RDFNL are so proud to have a player going on to the next stage in the state pathway.
We caught up with Chloe and asked her a couple of questions in regards to her netball. 
What does it mean to you to be talent identified into the state pathway?
I am very excited to be talent identified into the state pathway and honoured to receive an invite to the trials.  This achievement means a lot to me as I have been working hard to improve and develop my netball.
How did you enjoy the championships and did you think you played well enough to be selected?
The Championships was a fun day and great experience.  I was happy with how I played throughout the day but more so happy that our team did really well making it through to the Preliminary final.  We had a great bunch of girls who made it lots of fun
What have you been working on the most in recent years in terms of developing your game?
The main parts of my game that I have been working on to develop would be my positioning under the ring, my shooting accuracy and my speed and agility.
Who is the player you most look up to?
The player I most look up to would be Liz Watson.  I was lucky enough to attend a training clinic with her a few years ago and I loved the way she spoke about her netball journey and her work ethic.
What inspires you to keep improving your netball?
I am very passionate about netball and enjoy the challenge to learn new skills and bring them into my game.  I also love the opportunities and friendships that I have made along the way.
Is there anyone you would like to thank for helping you get this far?
I would like to thank Mum and Dad for their endless support, encouragement and always driving me to and from trainings and games.  A special thank you to my Interleague Coach, Michelle Rix who has taught me many valuable skills and really helped improve my netball and also thank you to my U17's Coach, Stacey and all my teammates at Lancefield JFNC.