Senior and Junior Season Update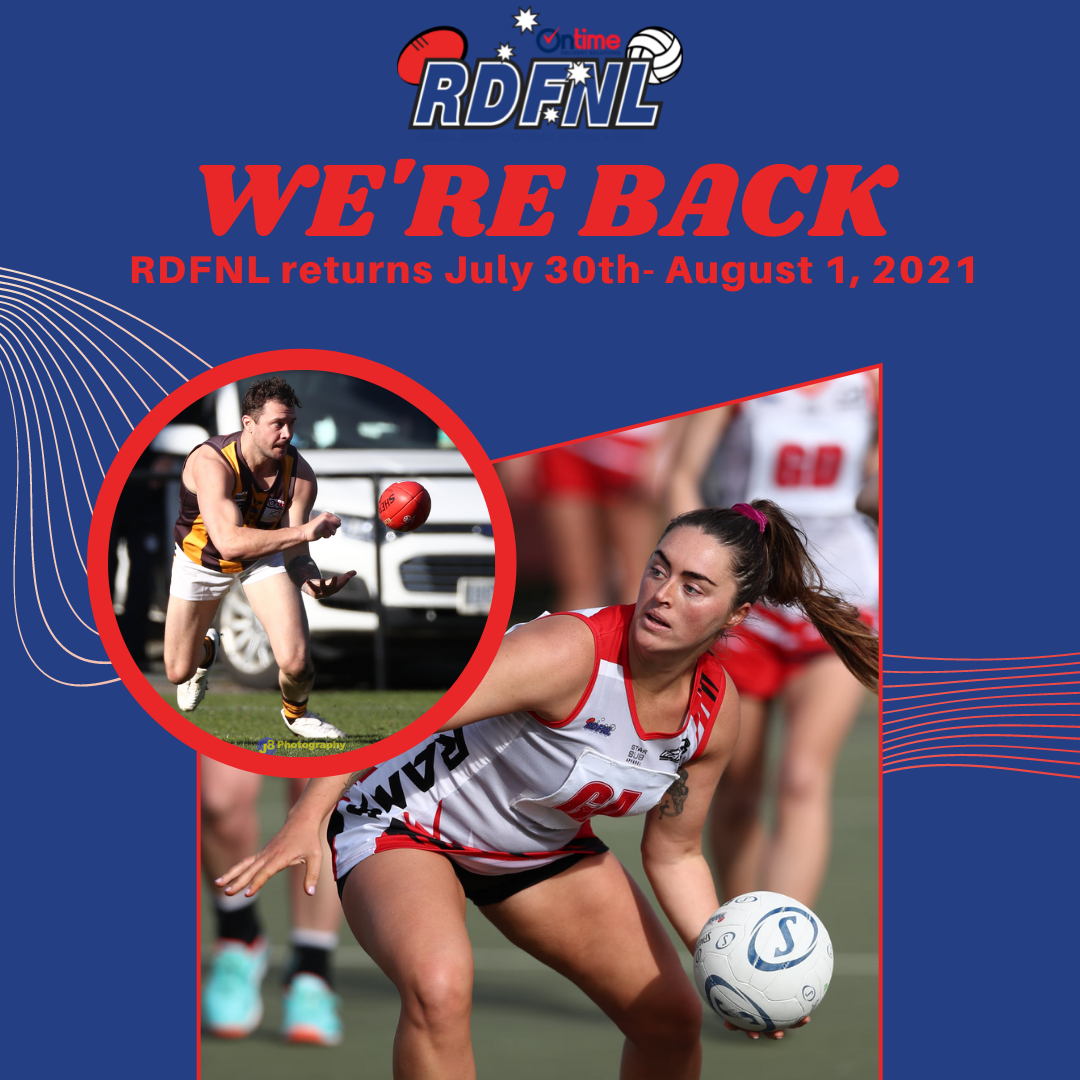 The RDFNL is pleased to announce the return of Football and Netball competitions this weekend for all age groups.
The RDFNL has liaised closely with all of our Senior and Junior Clubs to move forward with the rest of the season.
Please note the new fixture dates and competition structures for the remainder of the 2021 season;
Round 11 Saturday July 31st
Round 12 Saturday August 7th
Round 13 Saturday August 14th
Round 14 Saturday August 21st
Round 15 Saturday August 28th
Round 16 Saturday September 4th
Round 17 Saturday September 11th
Round 18 Saturday September 18th
Finals Dates:
Semi Final Friday September 24th at Lancefield Recreation Reserve
Semi Final Friday September 24th at Romsey Recreation Reserve
Grand Final Sunday October 3rd at Romsey Recreation Reserve
The RDFNL is very pleased that the home and away will be able to be played out in its entirety with the GF date being pushed back another week and the Finals Series being reduced from three weeks to two which enables all of our Clubs to play 16 home and away matches, 8 home and 8 away to maximise revenue later in the year when crowds can return. The new finals structure will see two Semi Finals played, 1v4 and 2v3 with the winners progressing to the Grand Final and the losers being eliminated.
Thank-you to the Macedon Ranges Shire Council, the Romsey Football Netball Club, the Romsey Cricket Club, the Gisborne District Cricket Association, Cricket Victoria and AFL Victoria for their support on this later Grand Final date and helping our community clubs maximise the whole home and away season.
Please note that the RDFNL has also made changes to the RDFNL Junior structure with season dates pushed back two weeks to accommodate a full home and away season as well as three weeks Finals Series. 2020 was extremely tough on everyone with no sport but in particular our kids who missed a lot in terms of school and local sport and we are please that all of our boys and girls will be playing full seasons of football and netball (baring another lockdown). The revised dates are as follows;
The remaining fixture dates will be:
Round 11 – August 1st
Round 12 – August 8th
Round 13 – August 15th
Round 14 – August 22nd
Finals Dates:
QF/EF - Sunday August 29th
Preliminary Final - Sunday September 5th
Grand Final - Sunday September 12th
The RDFNL are still finalising the RDFNL Junior Girls and Youth Girls Competition Fixtures but matches will proceed this weekend from Round 9.
The Club 18's Competition will also resume this weekend with Round 8 matches to be played as fixtured.
It is unfortunate that over the next two weekends that spectators cannot attend our matches but we will be working hard with our Senior Clubs to minimise the pain of no spectators and look forward to assisting them with their season.