Talking RDFNL 2021 - Wallan Senior Football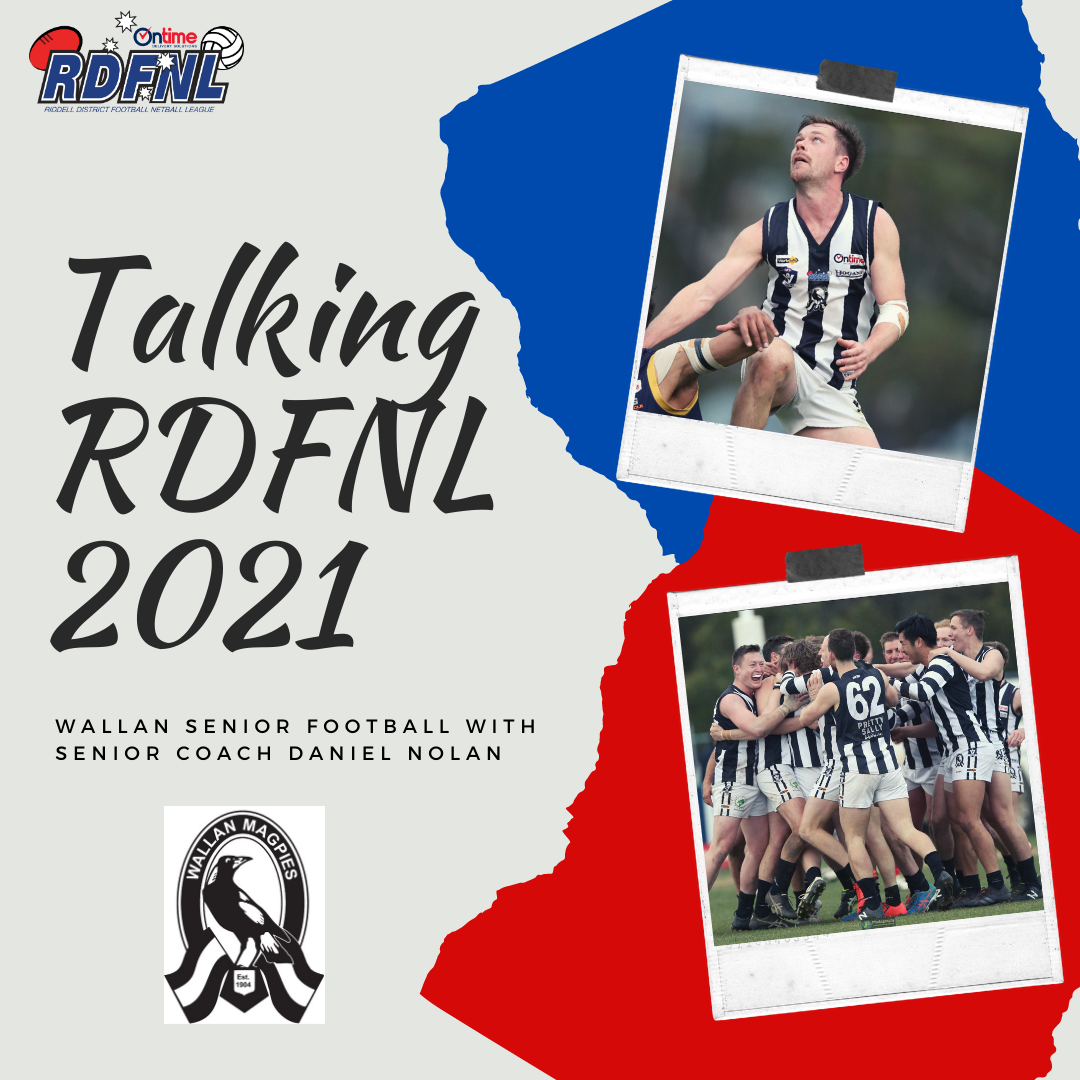 Wallan FNC Senior Football has its sights set on Diggers Rest as the team to catch during the RDFNL 2021 season. 
Senior Coach Daniel Nolan believes the race for the Senior Premiership is as open as ever and is looking forward to challenging the leagues best.
Wallan fell short in the grand final in season 2019, but they have added some class and retained most of their list.
Here is what Daniel has to say when we were "Talking RDFNL 2021":
Have you had any key signings for the upcoming season?
Jesse Davies has returned to the club, who is a two time Best & Fairest winner at Wallan and a Bowen Medalist in 2018.
Who has left the club that will be difficult to replace?
At this stage, we have retained most of our list, which is pleasing. 
Have you coached in the league before and if so what do you like about the RDFNL or what has brought you to the league?
2021 will be my sixth year coaching in the RDFNL & Wallan. I think the finals competition is very even and anyone can win the Premiership. Several clubs are also becoming stronger such as Lancefield, Woodend, and Melton. That's exciting for the RDFNL and makes for competitive games every weekend. To make the top 5 will be tight and the finals series will be awesome to watch. Diggers Rest will be the team to catch. 
The grounds in the RDFNL are spectacular and hopefully, we can bring the Grand Final location back to within. For example, the ground at Romsey creates a wonderful atmosphere for players and spectators. Let's bring the Grand Final back to RDFNL grassroots. 
How has covid19 changed your 2021 season plans? 
COVID has been a challenging time for everyone and no doubt 2021 will look different however the most important part is the safety of all players, members, and supporters. I'm sure if we can all work together as a community and follow the safety protocols, then we can get back to playing the sport we love sooner rather than later. 
During 2020 did you have any involvement with players such as at home workouts or training programs?
We have a strong culture at the club, led by our Captain Michael Mannix and his Leadership group. They have been driving the training standards during COVID Lockdown. The boys are fit and ready to go. 
How do you prepare for the season 2021 following the year off?
First thing is to bring some enjoyment back to training. Get the footy's out, have some fun, and work on the fundamentals. 
Who are some players to watch from your team in 2021?
- Nath Fowler is back from injury and can be a young star of the competition. 
- Ricky Schraven is as fit as I've ever seen him and is ready to be one of the elite midfielders in the RDFNL
- Matt Perri kicked 100 goals in 2019 and is onboard again for 2021
- Sean Morris, Corey Grindlay, and Shaun Stewart are also players to watch next season. 
- We have a range of young talent coming through the club, which is exciting and great for our future. 
What are you most looking forward to in 2021?
The community aspect of local sport. Being back together with friends and family on a Saturday afternoon. 
Do you have a set date for preseason following the easing of restrictions?
Not yet but hopefully with restrictions easing and numbers remaining low, we can get the tick of approval from the Government and Local Council to start training again in small groups.